Wooden Blinds Buyers Guide
March 12, 2021 |
by
|
Blog
Guide for Made to Measure Wooden Blinds
Buyers Guide
Wooden venetian blinds offer a classic choice that works well with almost any style of décor within the home to give a natural, classic & clean look. Our UK Online shop offers a large selection of made to measure wooden & faux wood blinds direct, with exciting wood slat solutions that offer their own style of design and affordability to fit every budget.
Blinds4UK sources quality natural made timbers, and faux wood materials from reputable UK suppliers, so you can be assured your custom made wooden blinds meet the high-quality standards we set.
Real Wood or Faux Wood
As the name implies, real wooden blinds are manufactured from natural wood slats sourced from various hardwoods because of their natural appearance, durability, and practicality. Real wood blinds are natural in appearance with grain textures giving that unique finish. If you have the budget then they are great for larger windows because they are lighter overall, available in a wider variety of colours, timbers, and different grains. One disadvantage is that they can be expensive compared to faux-wood and they can sometimes warp or crack in high humidity areas.
Whilst contributing to being green, faux wood blinds, also known as composite, PVC, or imitation blinds are engineered and manufactured to imitate wood. The advantages of faux wooden blinds is that they are considerably cheaper than real wood blinds, are flame retardant, water-resistant, easy to wipe clean, and the perfect bathroom blind & kitchen blind.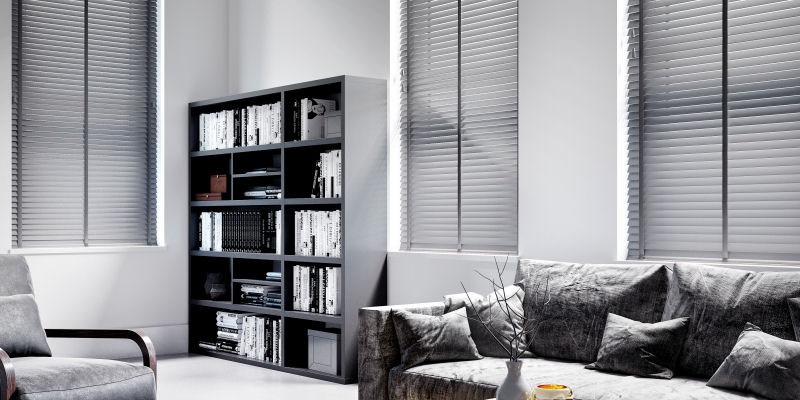 What are Wooden Blinds & How they Work?
Wooden blinds also known as wood venetian blinds consist of overlapping horizontal slats made of real wood or faux wood. They are joined and held together by ladder cord & corded pulleys, that simply allows the wood slats to be raised, lowered, or angled allowing light to filter through the gap between the slats. Blinds are raised and lowered, opened & closed using colour coordinated cords with toggles as standard.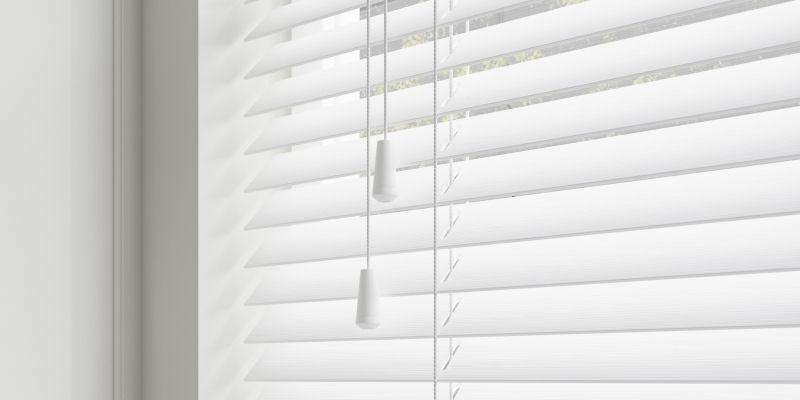 Which Slat Size?
When choosing a wooden blind slat size, think about what is more important to you, privacy or view. The larger 50mm wooden blinds slats will give you a better view to the outside than the smaller 25mm slat because of the wider gap between each slat when set on the ladder braid. Another thing to consider is the stacking height when the blind is raised because choosing a narrow slat means the number of slats increases, meaning they take up more space, which may cause obstruction or even a cluttered look. At Blinds4UK you'll find one of five widths, 25 mm, 35 mm, 38mm, 50 mm, or 63mm. By far the most popular and recommended slat is the 38mm & 50mm wood slat.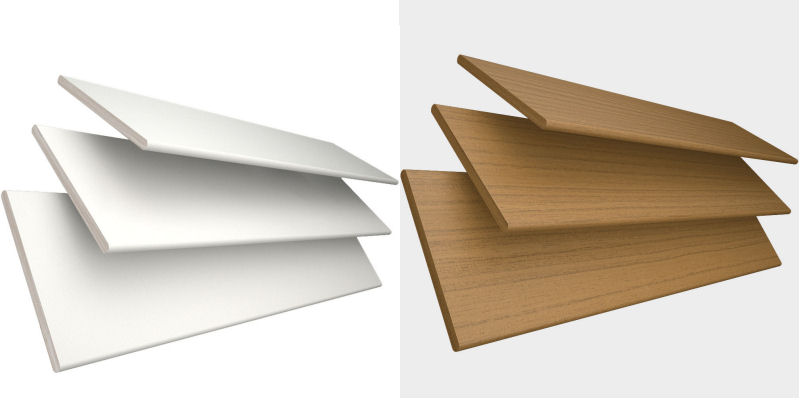 Cord or Tape Blinds
Wooden blinds are manufactured with a ladder cord as standard with the option to add decorative ladder tape. Choosing wooden blinds ladder tapes tends to be down to personal preference and is generally chosen to compliment & contrast home furnishings. The advantage of buying wooden blinds with tapes is that the tape covers the routed holes created on each side of the wood slat where the lift cord passes through. Having tape on a wood blinds means less light filtering through the routed holes.
Wooden Valance also known as the Pelmet
Plain Valance
Wooden blinds are supplied with a matching valance (also known as the pelmet) as standard to cover the width of the head-rail and the brackets. The valance is fixed to the head-rail using double-sided Velcro strips or plastic clips, which are supplied with the blind.
Valance with Mitred Returns
Valance (mitred) returns are the 90 degree angled side pieces to a standard wooden valance. They are generally ordered when blinds are fitted outside of the window recess because they cover the brackets and provide a beautiful finish. Ordering valance returns within a recess is generally not required because the side of the brackets are not seen. If you choose to order valance (mitred) returns for a recessed window always take into consideration the extra millimetres this will add onto the width of the blind. When measuring wooden blinds for bay windows, you may wish to consider having a mitred return on just the one side of a blind to cover the bracket that is the room facing.