Wooden Blinds Buyers Guide
November 08, 2023 |
by
|
Blog
Guide for Made to Measure Wooden Blinds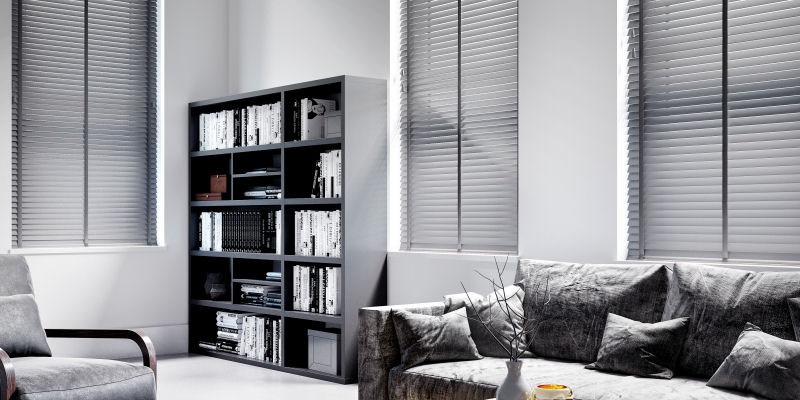 Buyers Guide
Classic Wooden Venetian Blinds offer an attractive, versatile window covering solution for any home. Our UK online shop provides an extensive range of custom wooden and faux-wood blinds to suit all budgets and design sensibilities. The natural warmth and clean lines of wood blinds complement nearly any décor and offer an affordable yet stylish way to finish your windows.
Blinds4UK sources only the finest natural and faux wood materials from reputable UK suppliers to ensure your custom wooden blinds meet the highest quality standards.
Real Wood or Faux Wood
Real wooden blinds offer an attractive yet durable window covering option. Crafted from natural hardwood slats, real wood blinds provide a one-of-a-kind grain pattern and texture that artificial materials cannot replicate. While real wood blinds tend to cost more than faux wood alternatives, they are ideal for larger windows due to their lighter weight, a wider range of stains and finishes, and natural appearance. The natural hardwood material allows real wood blinds to complement a variety of home decor styles. For those seeking custom window treatments with authentic, upscale appeal, real wood blinds are an elegant choice. With options ranging from budget-friendly basswood to exotic mahogany, real wood blinds suit both functionality and luxury.
Faux wood blinds, also referred to as composite, PVC, or imitation blinds, offer a practical and eco-friendly alternative to traditional wooden blinds. These versatile blinds are specifically designed to replicate the appearance of real wood. Not only do they contribute to sustainable living, but they also bring a host of advantages. Faux wood blinds are significantly more affordable than their genuine wood counterparts, and they possess qualities such as flame resistance, water resistance, and easy maintenance. This makes them an ideal choice for both bathroom and kitchen blinds.
What are Wooden Blinds & How they Work?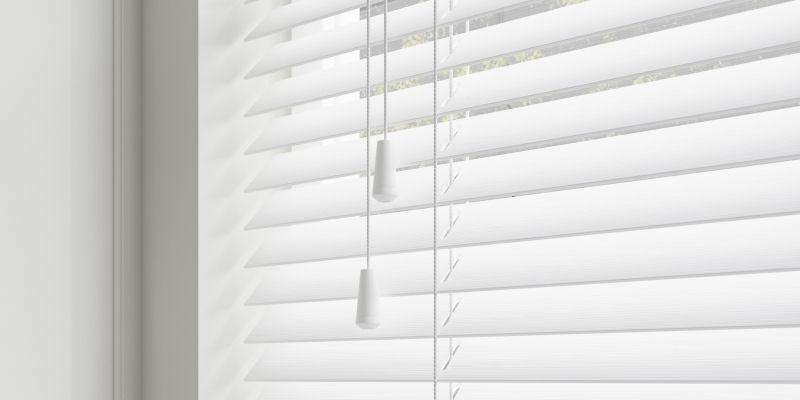 Wooden blinds also known as wood venetian blinds consist of overlapping horizontal slats made of real wood or faux wood. They are joined and held together by ladder cord & corded pulleys, that simply allows the wood slats to be raised, lowered, or angled allowing light to filter through the gap between the slats. Blinds are raised and lowered, opened & closed using colour coordinated cords with toggles as standard.
Which Slat Size?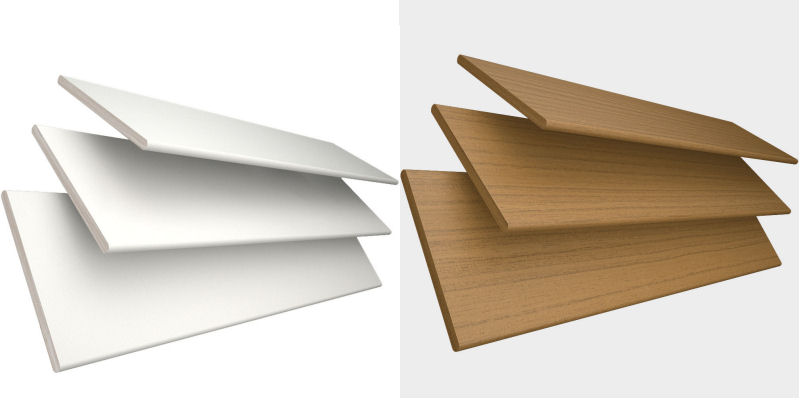 When choosing a wooden blind slat size, think about what is more important to you, privacy or view. The larger 50mm wooden blinds slats will give you a better view to the outside than the smaller 25mm slat because of the wider gap between each slat when set on the ladder braid. Another thing to consider is the stacking height when the blind is raised because choosing a narrow slat means the number of slats increases, meaning they take up more space, which may cause obstruction or even a cluttered look. At Blinds4UK you'll find one of five widths, 25 mm, 35 mm, 38mm, 50 mm, or 63mm. By far the most popular and recommended slat is the 38mm & 50mm wood slat.
Cord or Tape Blinds
Wooden blinds typically come with cord ladders, though wooden blinds with tapes are also available as an optional upgrade. The choice of ladder tapes for wooden blinds primarily comes down to individual style preferences and what best complements your home's decor. An advantage of selecting wooden blinds with ladder tapes is that the tape covers the routing holes on each side of the wood slats where the lift cord passes through. Tapes reduce light filtration through these holes for a more polished look. Whether to opt for cord ladders or decorative ladder tapes is ultimately an aesthetic decision based on your personal taste and how the blinds will fit in with your existing furnishings. Both options are designed to be highly functional, but ladder tapes do provide the added benefit of a more finished appearance
Summary
Wooden blinds typically come with cord ladders, though tapes are optional.
The choice between cord ladders or tapes depends on style and decor preferences.
Tapes cover routing holes in the wood slats, reducing light filtration for a polished look.
Whether to choose cord ladders or tapes is an aesthetic decision based on personal taste and existing furnishings.
Both options are highly functional, but tapes provide a more finished appearance.
Wooden Valance also known as the Pelmet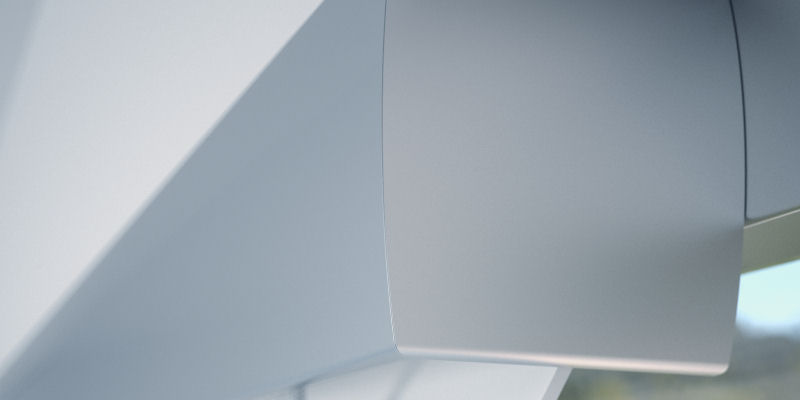 Plain Valance
Wooden blinds are supplied with a matching valance (also known as the pelmet) as standard to cover the width of the head-rail and the brackets. The valance is fixed to the head-rail using double-sided Velcro strips or plastic clips, which are supplied with the blind.
Valance with Mitred Returns
Valance (mitred) returns are the 90 degree angled side pieces to a standard wooden valance. They are generally ordered when blinds are fitted outside of the window recess because they cover the brackets and provide a beautiful finish. Ordering valance returns within a recess is generally not required because the side of the brackets are not seen. If you choose to order valance (mitred) returns for a recessed window always take into consideration the extra millimetres this will add onto the width of the blind. When measuring wooden blinds for bay windows, you may wish to consider having a mitred return on just the one side of a blind to cover the bracket that is the room facing.
Expert Guide on How to Measure for Wooden Blinds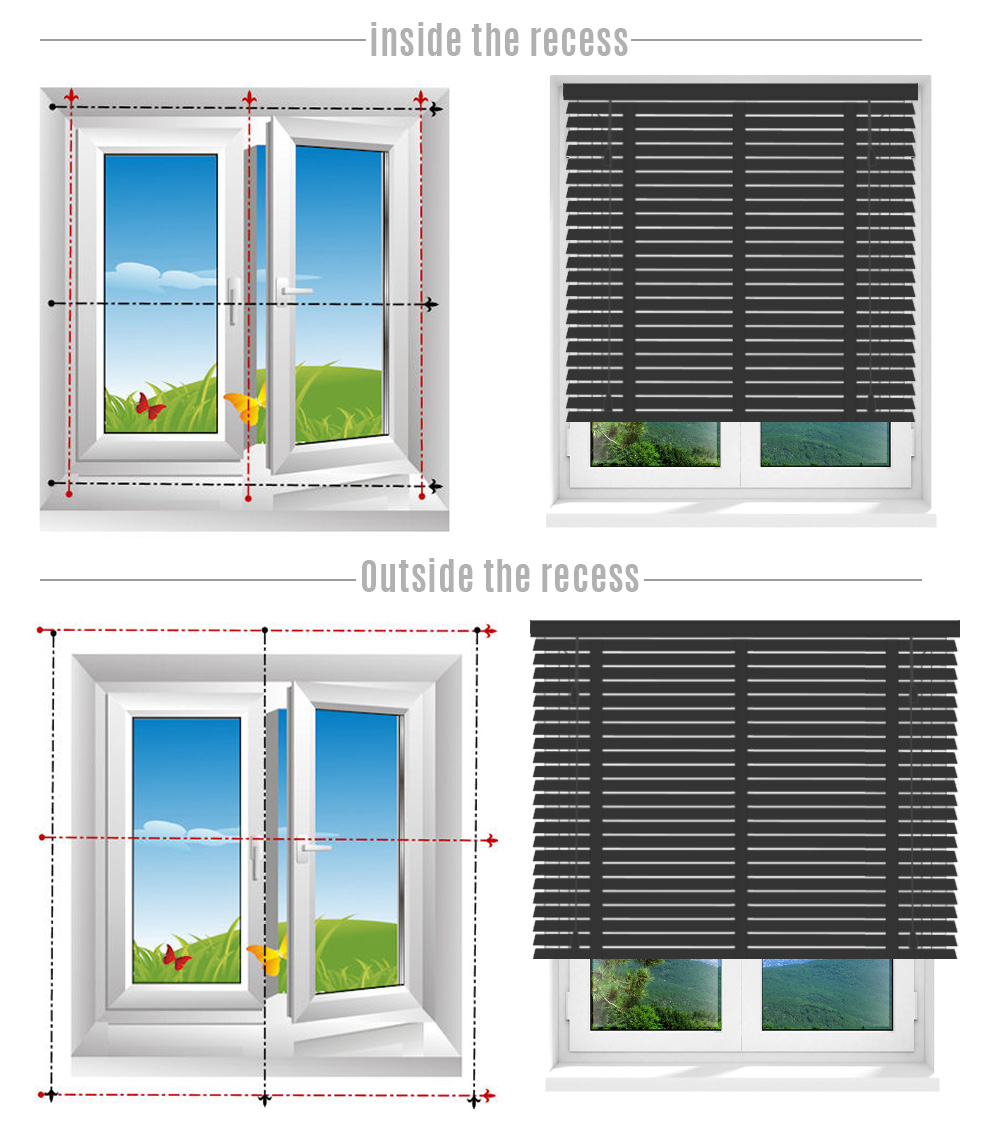 Understanding and measuring for wooden blinds is your first step to buying made to measure blinds? How you measure depends on the type of window you have and if it is to be fitted inside or outside of the recess. Regardless of window type, you will always need a width followed by the drop (height) measurement; this is too taken in centimetres and to the nearest millimetre.
Whichever window type, we have you covered with our simple video measuring guides.
view > Standard Window - Measuring Guide for Wooden Blinds
view > Angled Bay Window - Measuring Guide for Wooden Blinds